series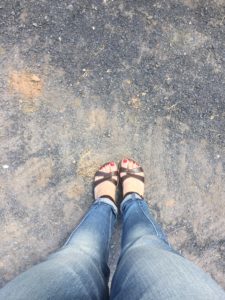 I've been a bit hesitant to write this post, worried how it may be received, knowing once I've committed to this there will be no excuse, no turning back. I'll have accepted the challenge and it will be full steam ahead. Which is a bit daunting and a whole lot scary but, deep inside, I know it is the right thing to do at this point in my writing career.
So here's the deal: I'm taking a break from writing historical romance.
Ack! Breathe, Kelly…breathe…
Let me explain. For over 15 years now, I've been writing western and regency historical romance and I have enjoyed it immensely. Who doesn't love cowboys and dukes and rakes and outlaws? I've had a blast with my heroes and heroines and their stories and it's been a great privilege having the opportunity to share them with you, the reader.
But I have now reached a point in my creative journey where I need to challenge myself beyond where I am now. To stretch my creative muscle in other areas and learn new things, new techniques, new styles that will help me become a better storyteller.
Where will this journey take me? Honestly, I have no idea. None. (Did I mention the daunting, scary part?) All I know is that I feel this need to push myself, to try something completely different. I'm going to wander a bit, traipse down the road less traveled, likely veer off in directions I haven't taken before, loop back around a time or two and become completely lost along the way. That's okay. A little adventure is good for the soul.
What does this mean for THE SINS & SCANDALS SERIES? Nothing, really. I will be completing the series first before I start wandering. Book 7, THE SWEETEST SIN, will be released August 9th, followed by a Book 8 (novella), A MOST SCANDALOUS CHRISTMAS in December 2016. The final full-length novel, A HINT OF SCANDAL will be out in Spring 2017. There is another novella in the series, however it doesn't follow in sequence but rather deals with Madame Opal St. Augustine from Book 1, AN INVITATION TO SCANDAL. I've always wondered what happened to her and eventually plan to tell her story, but not right away.
I have a few ideas of where I plan to wander. I started a contemporary romance/women's fiction story years ago and I have always wanted to go back and finish it. So that's my plan to start with and then…well, then the adventure begins.
I'm taking approximately 5 months off to spend writing whatever I want. Whatever will help me improve my craft, stretch creatively and push myself outside of my comfort zone.
Am I giving up historical romance forever? No. I have a few more historical series I want to write (those Caldwell sisters keep bugging me to tell their stories), a contemporary series that may spin off the one I mentioned above, and maybe something completely different that I learn about while doing all that stretching and growing during my hiatus from structured, planned writing.
I will be checking in with you often with updates here on my blog, on my Facebook page, and over on Instagram, where I'm pretty active.
I hope you'll come along for the ride.
But first — I'm preparing for the release of THE SWEETEST SIN (Aug) and my Harlequin Historical novella, CHRISTMAS IN SALVATION FALLS (Sep) and also writing the first draft of A MOST SCANDALOUS CHRISTMAS.
Talk soon,
Kelly
With the exception of the first two books I wrote (one a YA which is collecting dust and the other a western which will be dusted off, revised and published eventually), I have always written in series. I don't mean to. For instance, when I wrote THE OUTLAW BRIDE a billion years ago, it was only meant to be a 'one of'. Then again, perhaps subconsciously I had other plans given that I did put two other mail order brides on that train…
But regardless, even when I start out with what I think will be a 3 book series, it has a tendency to grow beyond the confines I set out for it. The Brides of Fatal Bluff Series eventually expanded beyond THE OUTLAW BRIDE to encompass the other two mail order brides on the train. But that was it. No more! Except, after the release of THE OUTLAW BRIDE, one reader wrote to ask me what the saloon keeper, Garrett Bentley's story was, and then another reader said she wanted to read bounty hunter Ed Devers story. Soon I started wondering too and the next thing I knew, my three book series had morphed into five. Although, if you're looking, THE OUTLAW BRIDE is the only one currently available, but I promise the others will be written soon.
The same issue cropped up when I wrote SALVATION IN THE RANCHER'S ARMS. It was a 'one-of'. Get in, get out. No fuss, no muss. Except…then there was this sheriff in the story and, well, SALVATION IN THE SHERIFF'S KISS will be out in February 2015. But then I'm done! Except…as I was writing that one this other guy showed up… Kincaid's story is slotted to be written next year.
So when I sat down to write AN INVITATION TO SCANDAL I suspected I was in trouble when Nicholas's friends showed up on the page. "Well fine," I muttered as these characters insisted on having their own stories. "But it's only going to be a trilogy and that's it!"  Except that left Abigail's brother Benedict with no happy ending. "Fine. One more then, but then I'm done!" (SURRENDER TO SCANDAL 2015). Except…then I started wondering what happened to a certain courtesan who showed up in AN INVITATION TO SCANDAL. "Fine," I huffed. "But you are only getting a novella." (SINS OF A SOLDIER 2015)
Except…then my imagination wandered over to Miss Eugenie Caldwell from AN INVITATION TO SCANDAL. You know, that poor girl has two younger sisters and no male heir to inherit their father's rather dismally small fortune and title. I gritted my teeth. I suppose I could  give them their own series…(THE MAYFAIR MISSES 2015/16).
But that was it! Finito! Except yesterday, as I was writing A SINFUL TEMPTATION, Book 3 in the SINS & SCANDALS SERIES, a certain Miss Cosgrove entered the picture and heavens…this woman has a story too!
So what should have only been a few of a books has now morphed into enough series and off-shoots to keep me busy well into 2017. It has also led me to the realization that there is no such thing as just 'one-of' where my brain is concerned.
~ Kelly