THE BRIDES OF FATAL BLUFF SERIES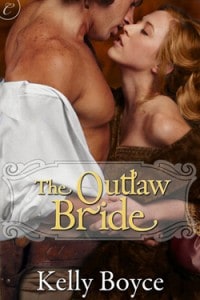 THE OUTLAW BRIDE – Carina Press

What would you risk to keep a promise? Newly appointed Sheriff, Connor Langston, is determined to bring the Slade Gang to justice for killing his estranged brother and leaving his niece orphaned. But when the meddling townsfolk force him to hire a housekeeper, he has no idea the woman is none other than Katherine Slade. As the gang descends upon the town, can Katherine and Connor learn to trust each other to save not only the town, but their love for each other?
Raves for THE OUTLAW BRIDE
"The Outlaw Bride is everything a historical romance should be – exciting, humorous, passionate and poignant, rich in atmosphere and peopled with colourful characters you won't soon forget. I didn't want it to end!" – Julianne Maclean, USA Today Bestselling Author
"Warm, funny, sexy, with characters you won't want to say good-bye to – The Outlaw Bride is a must-read for lovers of great romance!"  – Pamela Callow, author of Damaged & Indefensible
Amazon.com ¦ Amazon.ca ¦ Amazon.co.uk ¦ Kobo ¦ Barnes & Noble ¦ iBooks ¦ Page Foundry | Carina Press