Welcome
NEW RELEASE !!
A SINFUL TEMPTATION
Book 3: The Sins & Scandals Series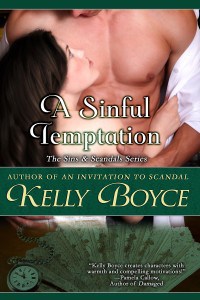 Amazon.com | Amazon.ca | Amazon.co.uk | Kobo |
Barnes&Noble | iBooks | Page Foundry | Print
For more information check out the Books page.
*   *   *
Upcoming Releases




SPRING 2015- The Lady's Sinful Secret, Book 3.5 (novella length) in the Sins & Scandals Series. What sinful secret is the Dowager Countess of Blackbourne keeping and what happens now that old secrets have come home to roost?

SUMMER 2015- Surrender to Scandal, Book 4 in the Sins & Scandals Series. Can money buy happiness? Benedict Laytham, the Earl of Glenmor, does not have the luxury of answering such a question, for if he does not marry a lady with a large dowry, he risks destroying his family's financial future and already damaged reputation.

For more information on these books and others, please visit my Books page!